Pythagorean Lambdoma Harmonic Keyboard Now Available!
Frequently-Asked Questions
about the Lambdoma Harmonic Keyboard
What kind of computer do I need?
What kind of software do I need?
The Harmonic Keyboard uses Robert the Inventor's Fractal Tune Smithy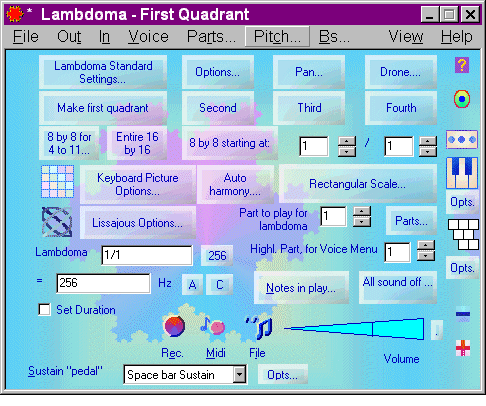 Fractal Tune Smithy Lambdoma View
this is a screenshot of the program (not clickable!)
there is a freeware trial version available.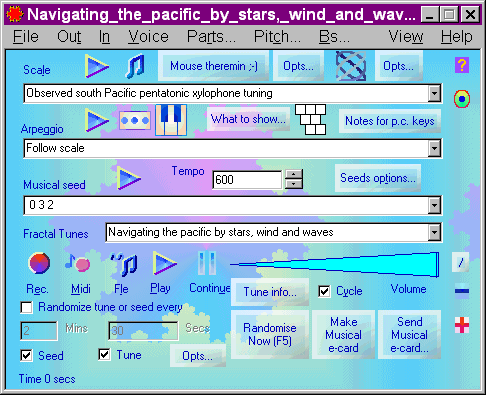 The Lambdoma view in Fractal Tune Smithy let's you play on an arrangement of musical ratios attributed to Pythagoras in which notes all in the same row or column play pure musical harmonies. The particular design and colour of this keyboard is due to Barbara Hero. You can play it using the mouse or the p.c. keyboard. The p.c. keyboard has some limitations as a musical instrument - so only four rows at a time are accessible, and it is also normal to find that many chords of three or more notes can't be played from your p.c. keyboard.
If you want to use this view to its full potential you need Barbara Hero's keyboard - see www.lambdoma.com for details. You will get an unlock key when you purchase the keyboard.
software available at:
http://www.robertinventor.com/fts_download.htm
Find more answers at: lambdoma.blogspot.com
New in 2008:
lambdoma keyboard technical specifications
User's manual
Ordering the keyboard: making payment, shipping details in USA and abroad, guarantee